Is there any smell for puttu?
God knows…, these people who doesnt know the smell also belong to the category of those who eat puttu.
One could combine banana with puttu and eat. kadala curry and puttu is a good combination for puttu. Peas curry also goes well with puttu. Potato curry and puttu also tastes good. Fish curry is a good match. What about chicken curry? Is it bad?? Puttu is an all rounder. One could have puttu with anything .All agrees, but the question still remains are there any smell for puttu???
The hot steam rising puttu when it jumps into our plate has a very nice smell. Puttu made using coconut shell will have the smell of coconut shell and that too when it's hot. Otherwise it will have the smell of grated coconut. But there are puttu that doesn't lose its smell even while cold.
Here is the recipe for a non veg puttu.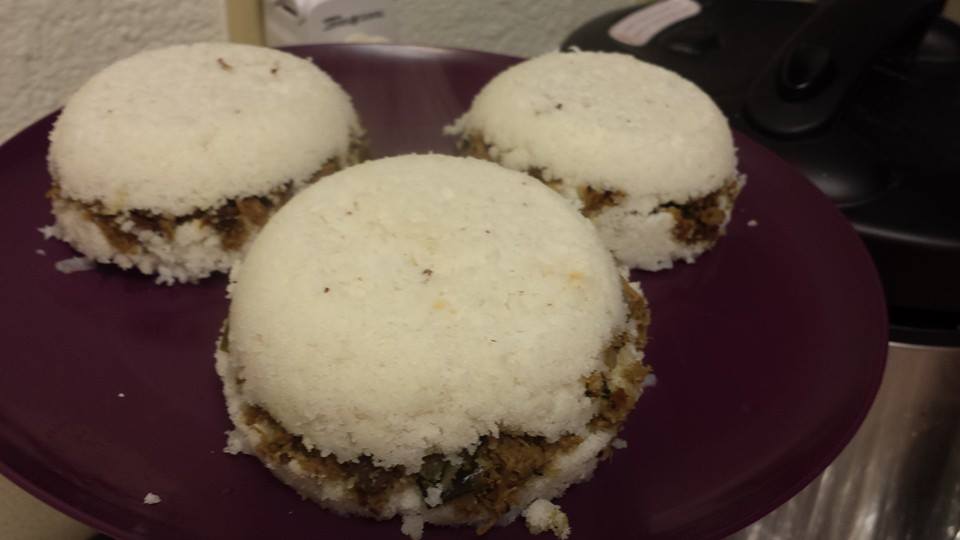 Ingredients
Fish- 100g
Onion-1 cup finely chopped
Ginger-1 tbsp finely chopped
Garlic-1tbsp finely chopped
Puttu powder- ½ kg
Green chilly-2 cut into pieces
Chilly powder- 1-2 tbsp
Turmeric -1/2 tbsp
Coriander powder-1tbsp
Grated coconut- 1 cup
Oil
Mustard- 1 tbsp
Curry leaves
Preparation Method
• Clean the fish and cut into tiny pieces.
• Heat oil in a pan and splutter mustard. Saute curry leaves and red chilly
• Add the finely chopped onion, ginger , garlic and green chilly
• Saute till the raw smell goes
• Add chilly powder, turmeric powder and coriander powder and saute well.
• Add enough salt and add the fish into this.
• Close the lid and cook for 10 mins in medium flame.
• Turn off the flame and add little lime juice into it and allow it to cool down.
• Mix this to the puttu powder.
• Also add grated coconut to the mix .
• Fill this mixture into the puttu vessel and steam it.
• Serve hot.
Isn't it delicious ????