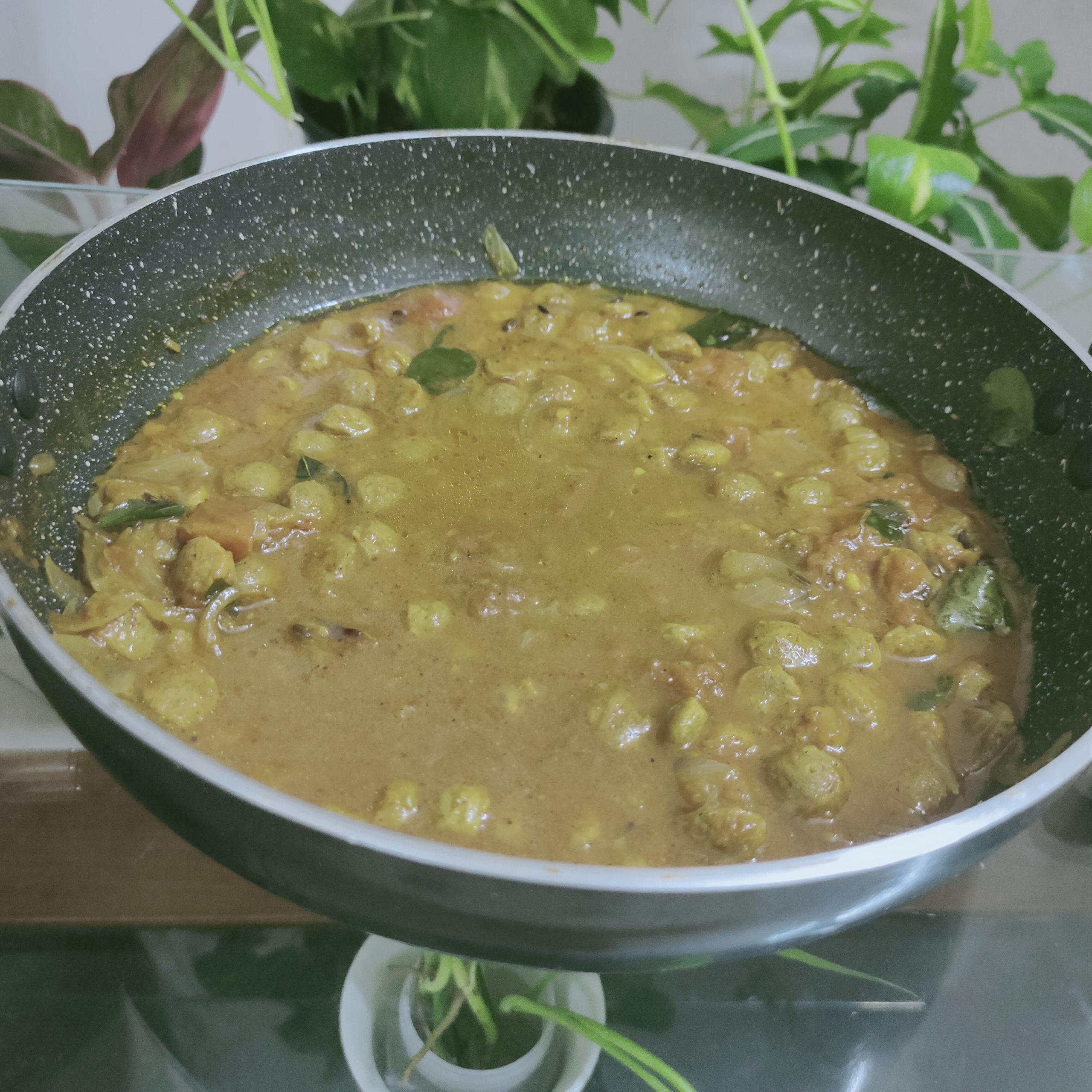 Soya Chunks Curry is a delicious Indian dish made with Soya chunks, Spices, Onions, Tomatoes and Herbs. This mock meat curry is the ultimate comfort food ! Super delicious and easy to make, and is sure to please everyone. Serve it with Rice, Pulao, Roti, Paratha, Chapati. It tastes the best with everything!
Soya chunks are made using soy flour that has been 'defatted' or the oil is removed. They are the byproducts left after extracting soybean oil and have a rough texture when left dry. The texture quickly changes to soft and spongy as soon as submerged in warm water or added to gravy. They are known as 'vegetarian's meat' as their nutritional profile is comparable to several non-vegetarian foods. Soya chunks are also very versatile and can also be cooked to have a similar flavour as non-veg curries.
Soya chunks is full of polyunsaturated fats, proteins and omega 3 fatty acids. 100 grams of uncooked soya chunks have 345 calories with 52 grams of protein, 0.5 grams total fat, 33 grams carbohydrates and 13 grams dietary fibre. They are also rich in calcium and iron while providing no extra sugar or sodium to the body.
Soya chunks pack numerous benefits and enable faster muscle building and metabolism. They are great for the health of bone, hair and skin health. According to a 2015 study published in the journal Molecules, it was found that soy chunks can efficiently lower the levels of bad cholesterol in the body and protect the heart from ailments. The study also discovered that soya chunks stop excess fat from accumulating around the organs, thus promoting weight-loss. The chunks are loaded with fibre, thus allowing the food to pass slowly from the system and keeping you full for longer.
Having too much soy products can increase estrogen and uric acid levels in your body, thus contributing to numerous health problems such as water retention, acne, weight gain, mood swings, bloating etc. Increase of uric acid may damage your liver and cause joint pain. Therefore, it is recommended to only have 25 to 30 grams of soya chunks in a day. Moderation is key!
This soya chunks recipe will give you a simple yet flavorful Soya chunks curry with just Pantry staples.
Ingredients
Soya Chunks – 1 Cup
Onions – 1 big
Tomato – 1 big
Ginger – 1 small piece
Garlic – 10 cloves
Green chilli – 2 no's
Turmeric powder – 1/2 tsp
Kashmiri red chilli powder – 1 tbsp
Coriander powder – 2 tbsp
Gram masala – 1 tbsp
Fennel seed powder – 1/2 tsp
Coconut oil – 2 tbsp
Fenugreek seeds -1/4 tsp
Fennel seeds – 1/2 tsp
Fresh curry leaves
Coriander leaves
Pepper powder – 1 tsp
Instructions
Rinse 1 cup of soya chunks 2 to 3 times in water and drain the water. Boil 3 cups water by adding a pinch of salt.Add the boiling water into the soya chunks.keep this aside for 30 mins.Drain the water. Rinse very well with fresh water. Press and squeeze the chunks really well to remove all the extra water the chunks have absorbed. Set aside.
Grind or crush 1 small piece ginger,6-7 cloves garlic & 1-2 green chillies. Keep this aside.
Into a pressure cooker add in 1 medium big Onion (chopped), 1 medium big Tomato (chopped) , Ginger-Garlic – Green Chilli paste and Salt.

Add 1/2 Tsp Turmeric powder,1 Tbsp Kashmiri Red Chilli powder,2 Tbsp Coriander powder,1 Tbsp Garam masala & 1/2 Tsp Fennel seed powder.

Add the prepared Soya Chunks along with 1 & 1/2 cup water.

Mix together and cook it for 4-5 whistle on medium to high flame.

Heat a wide heavy bottom pan and add 2 teaspoons of coconut oil.

Add fenugreek seeds and fennel seeds. Let it crackle.

Add 1/2 cup finely chopped onions and begin to sauté in the oil on medium-low to medium heat.

Add fresh curry leaves and a handfull of chopped coriander leaves .

Add 1 tsp pepper power ad mix it well.

Add cooked soya chunks with the water. Cover and cook for 10 minutes on medium heat. and turn off the stove when the gravy becomes thick. The gravy here will have a medium to medium-thick consistency. If the gravy looks very thick, simply add a bit more water. Be careful not to add too much, as this will dilute the flavors.
Serve Soya chunks curry hot or very warm with Chapati or Paratha.