Thoran is an everyday dry curry for rice made in Kerala using any vegetable of choice, grated coconut, shallots, cumin, and chillies or chilli powder. Thoran is a mild and very lightly spiced with the flavours of the vegetables shining through.You can prepare the thoran using single or a combination of vegetables.There are so many different ways to prepare a thoran. Some use onions while others use shallots.Some add garlic and ginger, while others like it plain.Here is my recipes to make thoran. This is very simple recipes.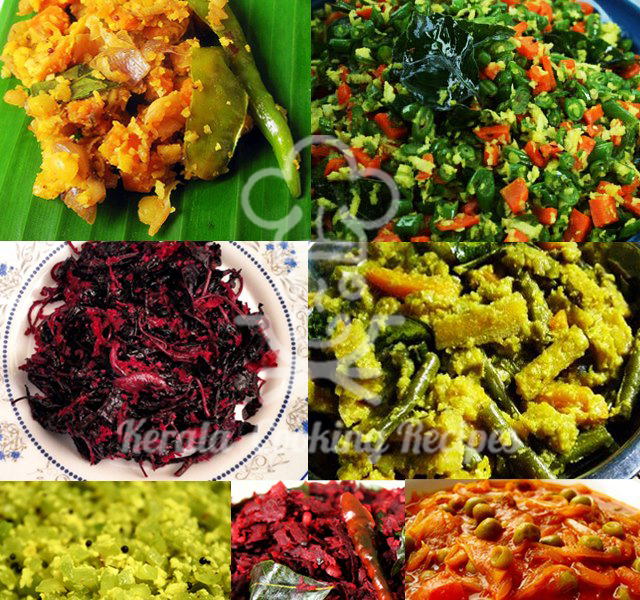 Ingredients
Vegetable – finely chopped or grated
Salt – to taste
To grind
Onion – 1
Garlic -2-3
Green Chilly – 1
Coconut – ¼ cup(grated)
Turmeric powder-1/2 tbsp
Seasoning
Mustard – ¼ tsp
Curry leaves – 1 strand
Onion-2
Oil – 1 tblsp
Method
• Cook the chopped/grated vegetable and salt. Cook for about 5 minutes spinkling few drops of water if needed.
• Meanwhile grind onion,garlic green chilly,coconut and turmeric powder.donot over grind.
• Add this to the cooked vegetable mix it well and cook for few minutes and switch off.
• Heat oil in a pan and splutter mustard seeds, dry red chilly, split black gram and curry leaves.
• Add this to the thoran and serve hot with rice.
Notes
• Peas, raw banana, papaya, beans, brinjal ,peas,cabbage,carrot. etc can be used to make thoran
• You can use any vegetable or combination of vegetables.
• Some vegetables do not need water at all. If the dish seems to get dry, just sprinkle few drops of water.
• Different vegetables take different time to get cooked.