This is a simple recipes to make Squid Masala.You could also follow the same instructions to make Mussel/ Kallummakaya masala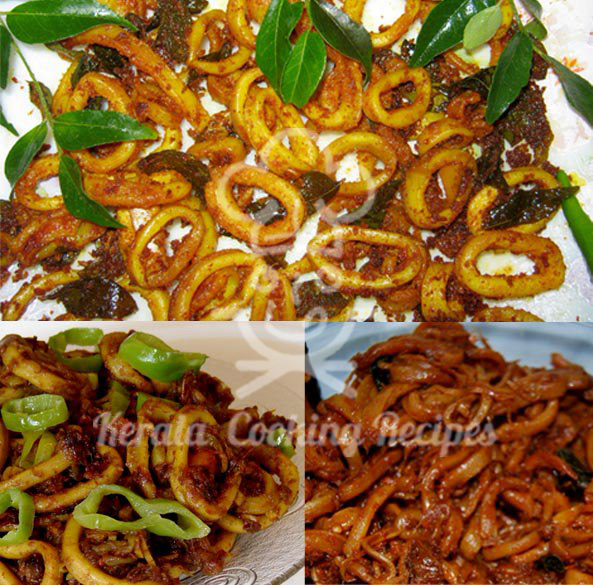 Ingredients
Squid /Kanava – 500gm
Turmeric powder-1/2 tsp
Chilly powder- 1 tbsp
Corriander powder -2 tbsp
Vinegar – 1 tbsp
Salt- as per taste
Curry leaves –
Oil
Onion -1 cup(finely chopped)
Green chilly -3
Ginger- 1 inch piece
Garlic 1/4 cup chopped
Garam masala powder -1 tsp
Water-
Method
Clean the squid and cut into ring shapes and keep it aside.
Chop the green chilly in round shape,chop the onion,ginger and garlic finely.
Combine together squid , turmeric powder,chilly powder ,corriander powder,vinegar ,salt and curry leaves. Add water enough to cook the kanava pieces.It takes around 3 minutes to cook the squid.Donot overcook the squid as it becomes rubber if you over cook.
Heat oil in a pan and saute chopped oinon,green chilly,ginger,garlic, curryleaves till it starts to red.
Add this to the cooked kanava and mix well.
cook for 2 mins and sprinkle garam masala powder and turn of the stove.
If you need a thick gravy add 1 cup chopped tomato while you saute onion and add to get thick masala.
Serve with rice.