Mezhukupearatty or vegetable stir fry is an important side dish in sadhyas. This dish can be prepared with potatoes, beets, yam, raw bananas etc. Parboil hard vegetables like potatoes, beets yam etc in a clay pot adding a few curry leaves for extra flavor.
Here go the recipe.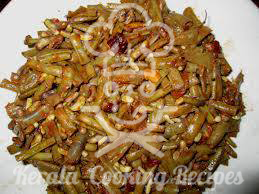 Ingredients
Vegetable- 1 cup (cubes or julienne)
Shallots-5
Galic Flakes-5
Curry leaves-1 sprig
Chili flake-1/4 tsp
Pepper powder-1/4 tsp
Turmeric Powder-1/4 tsp
Oil-1 Tbsp
Method
Crush shallots and garlic.
Heat a heavy pan add1 tbsp Oil, add crushed ingredients when 1\2 done add turmeric powder, curry leaves and chili.
Cook till caramel colour, toss in the vegetables stir fry till done.