Its very difficult to fill the stomach of kids.They often need something new and special.Are you thinking of preparing something special for your kid today? And mothers just dont want it to be special,we need it to be super special. Am I correct?? And that too healthy and nutritious..So ,I am here with a simple easy to cook fried rice.
Here goes the recipes….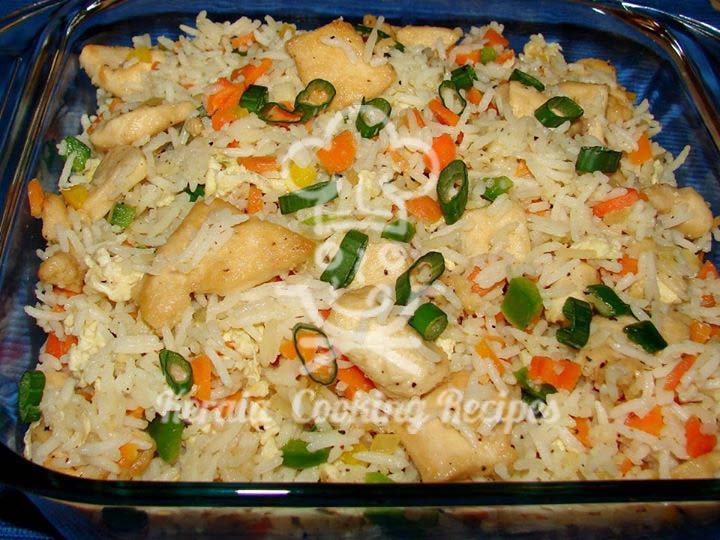 Ingredients:
Basmathi Rice                              –  Kg
Dry grapes                                     – 15 -20
Cashew nuts                                  – 15
Green peas                                     -1 cup
Capsicum                                         -1
Green chilly                                     -2
Egg                                                    – 2
Chicken                                            – 1 spoon finely shreaded
Soyasauce                                         -3 tsp
Pepper powder                                – 1 tsp
Turmeric powder                           -1 pinch.(optional)
Beans                                                  -7-8
Carrot                                                  -2
Onion                                                  – 4
Salt                                                     – as per taste
Oil/ ghee                                             – as required
Method:
Wash the basmathi rice thoroughly in water.Soak for half an hour and drain off the water completly.
Take a pan and stir the drained rice along with some ghee and stir continuosly till it becomes light brown.
Boil water by adding 2 spoon salt.after cooling drain the fried rice into the boiled water and cook for around 12 mins.In between check whether the rice is cooked.drain the excess water from the cooked rice.
Heat oil in a pan and saute the onion till it becomes brown and keep it aside.In the same pan saute finely chopped beans ,carrot ,capsicum green peas and so on.
Fry the cashews and dry grapes and keep it aside.
Add 1 tsp oil in a pan and saute ginger and green chilly till it becomes brown.
Mix all the sauted items, pepper powder and sayasauce into the prepared rice. Also mix the shredded chicken and shreaded eggs.
Delicious and tasty fried rice is ready. Serve with tomato sauce, chilly chicken and so on.