A dish to certainly saviour taste buds for a hearty meal.
Did you know that the crab is very healthy and a good addition to a balanced diet, as it contains many nutrients coupled with a low fat content ?Crab is an excellent addition to a healthy eating plan. It is low in calories with only around 85-90 per 100g (depending on crab type). It does contain some fat, but it is generally unsaturated fat which is considered heart healthy. Crab is also a natural source of omega-3 fatty acids, which can help to improve memory, decrease the chances of having a heart attack, decrease risk of cancer, and possibly help to improve depression and anxiety.Crab is also a good source of vitamins A, C and the B vitamins including B12, and minerals like zinc and copper. It is a source of selenium, which may be a means of preventing cancer. Crab also has some chromium, which is considered a useful mineral if you have insulin resistance, as it may improve blood sugar metabolism.
Crab is an excellent addition to most diets, being low in fat and calories, but high in protien and nutrients. Crab can be prepared in many different ways which makes it easy to include in regular meals.
And keeping in mind all these facts now try this delicious dish and win the hearts of your dear ones.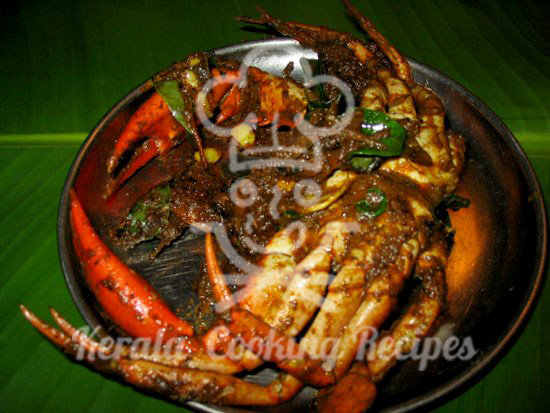 Ingredients
Crab – 6 No's
Onion -8
Ginger -1 spoon
Garlic – 1 spoon
Curry leaves – 2 sprigs
Green chilly – 2
Chilly powder – 3 tbsp
Coriander powder – 3 tbsp
Turmeric powder – ½ tsp
Garam masala – 2 spoon
Pepper powder – 2 spoon
Coconut oil – 3 tbsp
Preparation Method
•Clean the crab and cut the leg parts and the separate the remaining parts.
•Marinate the pieces by adding 1.5 spoon chilly powder,1.5 spoon coriander powder, 1/3 turmeric powder,1 spoon garam masala ½ spoon pepper powder and required salt and keep it aside for about 15 minutes.
•Heat oil in a pan and saute finely chopped onion till it turns pink. Now add chopped green chilly , curry leaves, finely chopped ginger and garlic and mix well.
•When the onion starts brown, add the marinated crab and mix well. Bring all the items to the middle of the pan and close the lid and allow it to cook. Meanwhile water will come out of the crab. Mix well using a spatula and lower the flame and leave it for around few minutes.
•Stir it occasionally. Turn off the flame when the gravy becomes thicken and when its done.
•Leave it closed for another 2 minutes and serve.
Serve with Rice or chappati.